Upgrade to Wireless, Unleash Your Game
The Plantronics GameCom 818 is a wireless stereo headset for PC, Mac and PlayStation 4. It comes with a USB wireless transceiver. Just plug the transceiver into your system's USB port, and you can play game freely within a range of 40ft (12m) from the wireless transceiver – up to 10 hours. The headset delivers realistic sound and clear voice chat to let you win faster. The lightweight, cushioned design ensures the maximum wearing comfort.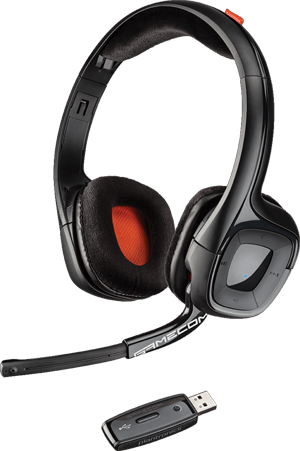 Roam Freely
Just plug the included USB wireless transceiver into a USB port on your system (PC, Mac or PlayStation 4), and then pair the headset with the wireless transceiver. The wireless operation range is up to 40ft (12m) from the wireless transceiver. You can roam freely without missing the action.
Rich Stereo
The headset is well equipped to deliver realistic stereo for games, movies or chat.
Be Heard Clearly
With noise-canceling technology, the microphone picks up your voices faithfully. So your teammates can hear you clearly.
Easy-to-reach On-ear Controls
All control buttons are located on the left earcup. You can access them within an arm's reach. The following show the details:

Mute: Lift the boom to full stop
Unmute: Lower the boom

Increase volume

Headset LEDs

Power on/off
Pair button

Track forward
Headset charge port

Decrease volume

Play/pause button
Long Battery Life
Charge your headset through the charge port. It takes four hours to fully charge the headset. You can use it for up to 10 hours on a single full charge.